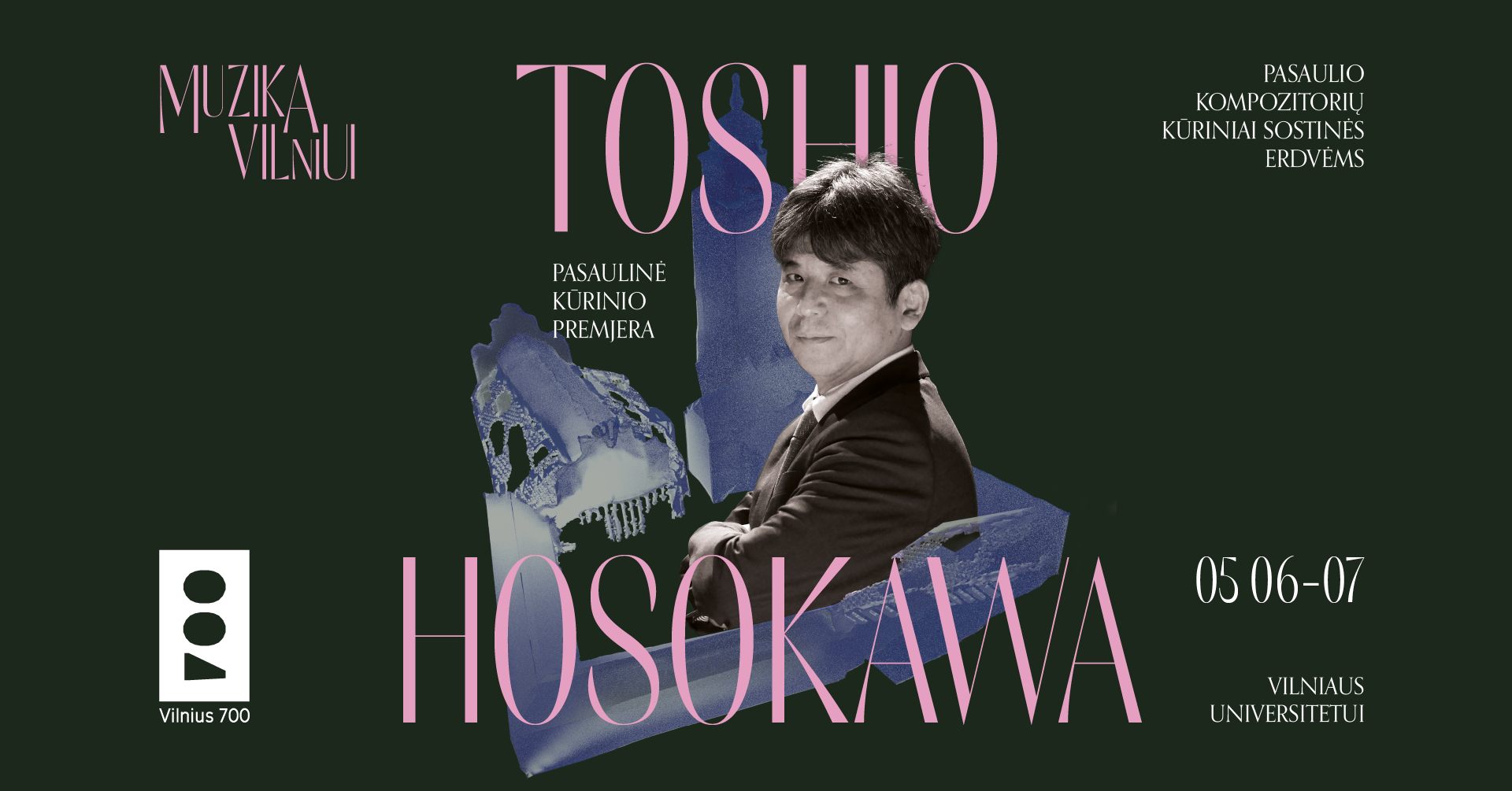 International site-specific music festival "Muzika erdvėje" presents
Part of the official program of "Vilnius 700"
MUSIC FOR VILNIUS
Music for chosen locations of Vilnius by World-renowed Composers
TOSHIO HOSOKAWA
Japan
World premiere of the composition "Invisible Angels" dedicated to the Vilnius University.

Portrait concert of Toshio Hosokawa.
Performers:
LENsemble VILNIUS (artistic director / conductor – Vykintas Baltakas)
–> Chordos String Quartet and Raimondas Sviackevičius (accordion)
Admired on the stages of prestigious concert halls and international festivals, from New York to Tokyo, seven worldwide renowned composers from different countries and cultures will salute Vilnius, celebrating its 700th anniversary with their exclusive musical gifts.
Organisers:
• "Meno genas" together with LENsemble Vilnius
Supported by:
• Vilnius City
• Office of the Government of the Republic of Lithuania
• Lithuanian Council for Culture
Main partners:
• Lithuanian Composers Union
• Vilnius City Hall
Partners of the event locations:
• Vilnius University
• Church of Consolation and Police Department
• Kazys Varnelis House-Museum
• The Genocide and Resistance Research Centre of Lithuania
• Gediminas Castle Tower and the K29 business centre
• Martynas Mažvydas National Library of Lithuania
• Vilnius theatre "Lėlė"
Hotel:
• "Artagonist"
Water:
• "Druskininkų Hermis"
Media partner:
• LRT PLIUS
Info partner:
• "JCDecaux Lithuania"
Partners:
• "LTG Link"
• "Rotaract"
• Lithuanian Academy of Music and Theatre